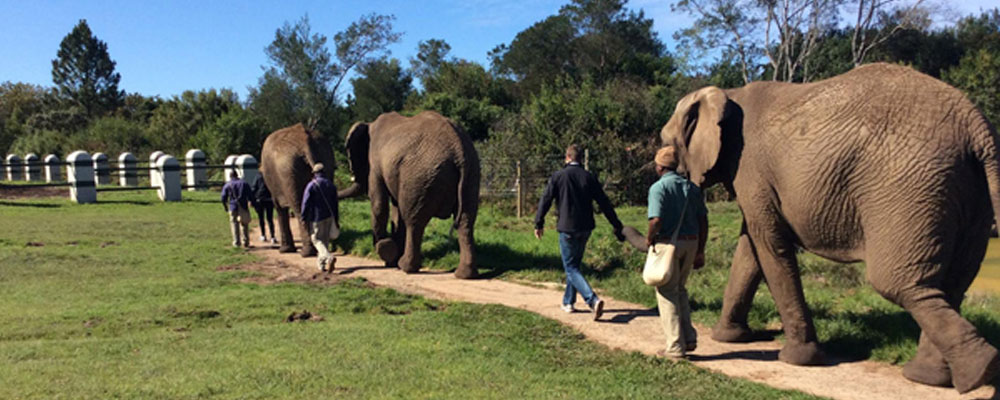 Elephant Country Guest House
Elephants hold a huge draw for people on luxury safaris, and it's no surprise – these amazing animals have intricate family ties, and human-like emotions. There is almost nothing better than watching baby elephants role around in the mud or play with their siblings.
Elephant Country Guest House has a classic elegance to it which comes naturally, and this luxury guest house certainly delivers when it comes to elephants.
There is a waterhole next to the guest house where the elephants gather every day, This accommodation in itself is just fantastic for elephant viewing because everywhere you turn they will be feeding or brushed down.
You will feel as if it is truly in the wilds. Here you can enjoy privacy and nature without having to pay the premium to take it exclusively. A most magical location which will certainly fulfil all your desires when it comes to elephant encounters and experiencing the romance of a luxury bur affordable stay over the venue
https://www.elephantsanctuary.co.za/
The Elephant Sanctuary
Here the elephants have been domesticated through positive reinforcement, providing the opportunity to safely interact with these mammoth creatures. They are all lovingly cared for and it is hoped that one day they will be released back into the wild. Until then, they'll spend around 20 hours a day eating and grazing, a couple of hours sleeping and the rest of the time, they'll be spending with you. Elephants never forget, and with experience as incredible as this one, neither will you.
https://plettenbergbay.elephantsanctuary.co.za/
Fast Facts
The Elephant Sanctuary is a short distance outside Plettenberg Bay and offers an interactive African Elephant experience and overnight accommodation. With hands-on educational elephant interactions providing guests with a far more intimate elephant experience.
Dedicated staff are committed to the use of positive reinforcement elephant training methods and as a result, have relaxed elephants who enjoy interacting with guests.
You will be able to touch, feel and interact with the elephants. You will see the special relationship that the elephant handlers share with their elephants and become a part of this family.
Luxury accommodation bordering right next to the Elephant Sanctuary is available at the Elephant Country Guest House. Guest have the opportunity to stay in luxury rooms only a short distance from the elephant stables.
This area is Malaria free